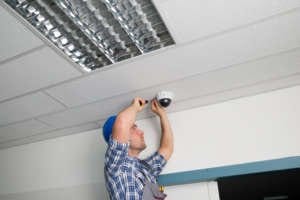 Are you looking for a CCTV camera installation Los Angeles? This is the right place for you. You can get the service from SCSCCTV. We can provide the best service at your office, home or, building. Most people like our service. Because we always try to meet the satisfaction of our customer. So, you also can get CCTV camera installation from us.
Los Angeles Area
Los Angeles, California is one of the most densely populated cities in the United States. It has a population of over 3 million people and spans 498 square miles, making it the second-largest city in the country. Los Angeles is also home to Hollywood and other major studios, as well as many other tourist attractions.
The Los Angeles climate is characterized by year-round warm temperatures with low precipitation levels. You can get CCTV camera installation Los Angeles from many companies. However, SCSCCTV can provide you with the most effective service.
Details About Our CCTV Camera Installation Los Angeles
At our showroom at CCTV Camera Installations Los Angeles, we have fully functioning security systems on display. We can demonstrate the various options available to you when designing a home security system for your home or business.
On display, we have digital video recording systems (DVR) that are either PC-based or stand-alone systems. We have a wide array of cameras on display, both indoor and outdoor, daytime and night. All of our cameras are fully operational so you can understand what the technology is capable of. Once you understand the technology we can set up an appointment for a visit to the property.
A Professional CCTV Camera Installation Los Angeles
Our technicians can come and visit your home or place of business and custom design the system for your exact needs, discussing what it is you would like to accomplish on your property. Installation costs depend on several factors. The first is the number of cameras. Second, the location of the camera itself determines the relative time it takes to install it. Finally, the location of the cameras relative to the digital recorder determines the length of the installation cables and the labor involved.
Closed Circuit Television Camera Installations can be complex to install and configure while meeting your exact needs. Not everyone has the technical expertise and know-how to correctly customize the system to meet your needs.  We are those experts and our hands-on and patient approach will guide you through the installation process.
Our Camera Installations are known throughout the Los Angeles area as incredibly valuable and efficient.
Call Closed Circuit Television Camera Installation Los Angeles today at 323-655-7326 for more information on how we can serve your computer needs. We provide quick, reliable computer repair services in the Los Angeles area. Some of the areas codes serviced: 90001, 90005, 90029, 90089, and others.
Why Choose Us For CCTV Camera Installations Los Angeles?
There are many reasons to pick SCSCCTV for CCTV cameras. You should consider some of the qualities to choose the best service. Here are the qualities SCSCCTV have-
Reputation: The reputed companies have their own standard. We also follow our quality standards. So, you can expect a great service at a reasonable cost from us. And we have all the equipment and skilled technicians.
Experience: The experienced workers always can perform better. So, we assign qualified workers for CCTV camera installations Los Angeles. Therefore, you can expect great service from us.
Happy Customers:  We have more than 1000 happy customers. You can read the reviews on Google, Yelp, and other review websites. Most of our customers are satisfied according to their reviews.
Thousand Of Successful Projects: We completed thousands of projects successfully. As a local installer, we have experience doing the job in Los Angeles area. So, you can expect to get a better and cheaper service from us. And we maintain the quality of work.
Skilled Technicians: The technicians have licenses, training, insurance, and all the essential qualities. As a reputed and professional company, we assign skilled workers to do the job.
Most Effective CCTV Camera Installation Los Angeles
You can consider SCSCCTV as the most effective company because we have the qualities an installer needs to have. We have a reputation, experience, happy customers and skilled workers. And we always try to do the job according to the need of our customers. So, you can consider us as an effective company. Therefore, you can get the service from us. You can contact us anytime you want.
Questions & Answers:
Can I install CCTV outside my house?
Yes, it is legal to install CCTV outside your house in a public place. But you are not allowed to place it in a private place. You can contact us and consult with us about the details. We can help you with the information and installation service at a reasonable cost.
What is the best position for security cameras?
8-10 feet from the ground is the best position for security cameras. It will allow you to capture the details and make it more effective. However, the professional installers can identify the best place according to the location and plan.
How much does it cost to hire someone to install security cameras?
According to HomeAdvisor, the average cost is $1500. It may vary according to many things. So, you can contact SCSCCTV for details and more specific information about the cost of the service.
Read More About: