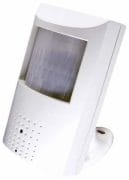 Hidden Security Camera Los Angeles specializes in the installation and configuration of hidden camera systems for commercial or residential applications. Hidden cameras come in a number of form factors that are inconspicuous and can be installed in such a way as to be indistinguishable to an observer. Hidden cameras are manufactured to resemble, smoke alarms, motion detectors for alarm systems, clocks, thermostats for heating and air conditioning systems and many others. These cameras can be connected to industry standard digital video recording systems and can be monitored by the owners remotely over the internet.
Digital video recorders (DVR) come in two form factors. PC based systems and standalone systems. PC based systems have feature rich software with powerful video analytics that allow the user to perform tasks with software which were once prohibitively expensive. For example some of the video analytics that are common on our PC based systems are facial recognition, the ability of the software to recognize the facial features of individuals and then inform you about their presence on the premises. People counting, the ability of the software to tell you how many people are in a room at any given time. Tamper detection, the ability of the software to warn you that a camera has been moved, that the focus has been changed or that the camera has been disabled. Hidden Security Los Angeles has standalone systems which do not have the features in software that PC based systems have but are more robust and versatile. They require little maintenance and can be placed almost anywhere.
Call Hidden Security Camera Installation Los Angeles today at 323-655-7326 for more information on how we can serve your security needs. We provide quick, reliable security services in the Los Angeles area. Some of the areas codes serviced: 90001, 90005, 90029, 90089 and others.